The 50mm prime has been a "go-to-lens" in many photographers bag. This lens works great for studio portrait work, and is usually good for low light situations in the field. This lens by Canon is only $100 (amazon) and is made out of plastic, but the glass is great!
Canon's 50mm prime is a perfect lens for shooting video too. I used this lens to shoot a documentary (CrashTheCoast) and the video looked great. The colors are beautiful. I love the look of a low aperture pictures through this lens.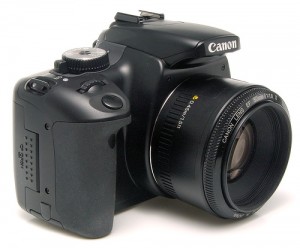 I must say this lens is very durable. During this trip my Canon ef 50mm lens took a few tumbles (waist-high-onto-the-sidewalk-in-Santa Monica-California) and spills (into-the-sand-at-many-beaches). But besides a few scratches, the lens never acted odd, or malfunctioned.
Lenses are expensive, considering they cost about 25%-50% of most   common camera bodies. This lens gives you amazing bang for your buck and should be many photographers first lens. This lens will definitely improve your photos if you are using a stock lens.
check out these pictures taken with the Canon Ef 50mm 1.8 prime